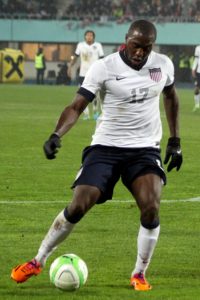 For the second straight year, Toronto FC will play in the 2017 MLS Cup. On Wednesday, Jozy Altidore of Livingston, New Jersey scored in the 60th minute as Toronto beat the Columbus Crew 1-0 in game two of the two-game total goal series in the Eastern Conference Finals. Toronto and Columbus played to a 0-0 tie the week prior in Columbus.
It was a gutsy effort by Altidore who scored the deciding goal with an ankle injury. He left in the 68th minute, eight minutes after he put Toronto FC ahead. Altidore did not play in the first game of the series against Columbus in the United States because he was suspended.
Toronto's opponent on December 9 at BMO Field in Toronto will be the Seattle Sounders. On Thursday, the Sounders trounced Houston Dynamo 3-0 at home on goals by Victor Rodriguez, Clint Dempsey and Will Bruin. The Sounders beat the Dynamo 5-0 in the two game total point series as they got goals from Bruin and Gustav Svensson in their 2-0 win in Houston on November 21.
This will be the second straight year that Toronto FC will host the Sounders in the MLS Cup. Last year, the teams played to a goalless draw after regulation and extra time before the Sounders won 5-4 on penalty kicks.