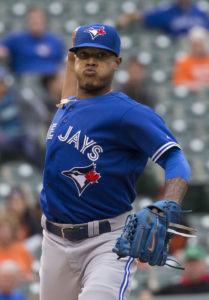 The Toronto Blue Jays made two significant trades on Sunday as they dealt starting pitcher Marcus Stroman to the New York Mets and second baseman Eric Sogard to the Tampa Bay Rays. The Blue Jays are clearly looking to the future and received two pitching prospects in the Stroman trade in Anthony Kay and Simeon Woods-Richardson. The Blue Jays received a player to be named later in the Sogard deal.
Stroman had a record of six wins and 11 losses in 21 starts with the Blue Jays in 2019. However, he had an excellent earned run average of 2.96 and represented the Blue Jays in the all-star game. In 124.666 innings, Stroman has given up 118 hits, 41 earned runs and 35 walks. He also had 99 strikeouts and a WHIP (walks and hits per innings pitched) of 1.23.
Stroman was on the Blue Jays roster in 2015 and 2016 when they made the playoffs for the first time since winning the World Series in 1993. He was an instrumental part of the Blue Jays starting rotation. During a stretch in the 2015 season, Stroman returned to action following a torn anterior cruciate ligament in his left knee he suffered in spring training. In four regular season starts that season, Stroman was spectacular as he had a record of four wins and zero losses, an earned run average of 1.67, a WHIP of 0.96, and 18 strikeouts in 27 innings. The Mets become Stroman's second team.
Sogard was very effective at the top of the Blue Jays batting order in 2019 playing second base. He batted .300 with 10 home runs and 30 runs batted in. During his 287 at bats, Sogard scored 45 runs, had 86 hits, 17 doubles, two triples, six stolen bases, 29 walks, an on base percentage of .363 and a slugging percentage of .477. The Rays become Sogard's fourth Major League Baseball team as he also has played with the Oakland Athletics and Milwaukee Brewers.