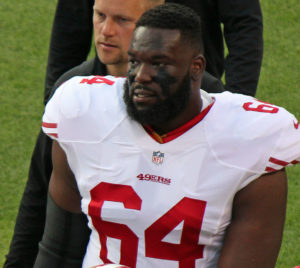 The British Columbia Lions made a trade with the Calgary Stampeders on Sunday. The Stampeders dealt offensive lineman Justin Renfrow to the Lions with a fifth round draft pick in the 2020 Canadian Football League Draft for an unnamed player on the Lions negotiating list and a fourth round draft pick in the 2020 Canadian Football League Draft.
Renfrow played seven games over the last two seasons with the Stampeders. The Lions are in desperate need of improving their offensive line as they have given up 25 sacks in their first seven games. The ability to protect veteran quarterback Mike Reilly, who returned to the Lions in the offseason from the Edmonton Eskimos, has become a serious problem.
The Lions are just not giving up sacks, but are having problems scoring points and are giving up a ton of points. The Lions have only scored 145 points in seven games (the least among teams in the Western Division) and have given up a CFL high 241 points. With a record of one win and six losses, only the Toronto Argonauts, with a record of zero wins and six losses, are worse at the moment than the Lions.
On Saturday, the Lions were hammered 45-18 to the Saskatchewan Roughriders. In other week seven action, Edmonton blanked Toronto 26-0, Calgary beat Ottawa 17-16 and Hamilton beat Winnipeg 23-15. It was a tough win for the Tiger-Cats because even though they picked up the two points, they lost quarterback Jeremiah Masoli for the season with a torn anterior cruciate ligament.