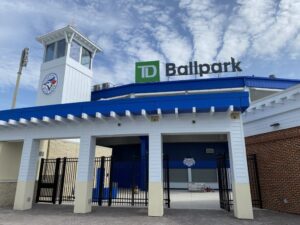 According to Jordan Horrobin of Forbes on Wednesday, the Toronto Blue Jays will start the 2021 Major League Baseball regular season at TD Ballpark in Dunedin, Florida. The Florida city which has a population of 35,000 people has been the spring training home for the Blue Jays since 1990, and have also hosted their minor league affiliate at the A-ball level since 1987.
The Blue Jays are forced to play all their games south of the border at this time because of travel restrictions between Canada and the United States. Due to the fact we are still in a pandemic, those crossing the border into Canada need to self isolate for 14 days. So far coronavirus has killed 2,442,067 people worldwide, including 502,544 Americans and 21,435 Canadians.
The Blue Jays played their 2020 Major League Baseball regular season in Buffalo, New York, the home of their AAA affiliate. It is curious that the Blue Jays have decided to play in Dunedin over Buffalo, when you consider the fact the Blue Jays spent $5 million to upgrade Sahlen Field in Buffalo, and the fact the Blue Jays had so much success there last season. In 26 games, they won 17 contests.
At this time, the Blue Jays are hosting the Los Angeles Angels, New York Yankees, Atlanta Braves and Washington Nationals in games up until May 2. After that, the Blue Jays will reassess everything, with the hope that the border will reopen. Unfortunately, the border appears to remain closed for the long term because Canadians are being vaccinated for coronavirus at a much slower rate than Americans.