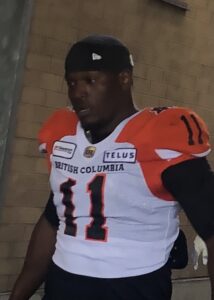 According to Matthew Cauz of cfl.ca on Tuesday, the Toronto Argonauts have signed defensive end Odell Willis of Meridian, Mississippi. The Argonauts will become Willis's sixth Canadian Football League team as he has previously played for the Calgary Stampeders, Winnipeg Blue Bombers, Saskatchewan Roughriders, the Edmonton Football Team, and the British Columbia Lions. This will be the first time Willis will have played in the East Division.
In 2019 with the Lions, Willis played all 18 regular season games and had 23 defensive tackles, two special teams tackles, four sacks and two forced fumbles. He had a memorable game against the Argonauts in the last CFL season as he had one forced fumble and one sack in an 18-17 Lions win in the Ontario capital on July 6, 2019.
At 36 years of age, Willis seems to have more to give the CFL as a player. In his CFL career to date, he has played in 191 games, and had 263 defensive tackles, 101 sacks, 24 forced fumbles, three interceptions, two special teams tackles and two touchdowns. Both of Willis's touchdowns came with the Edmonton in 2014, the year before he won a Grey Cup with Edmonton in 2015. He was also a CFL All-Star with the Blue Bombers in 2011 and Edmonton in 2014.