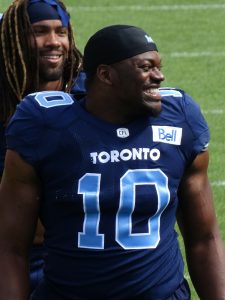 The Toronto Argonauts have won the 2022 Grey Cup. On Sunday from Mosaic Stadium in Regina, Saskatchewan, the Argonauts defeated the Winnipeg Blue Bombers 24-23. This was the seventh time the Argonauts have played the Blue Bombers in the Grey Cup. The Argonauts have won all six times, winning in 1937, 1938, 1945, 1946, 1947, and 1950.
Of the Argonauts's first nine Grey Cup titles, they in fact beat the Blue Bombers 67% of the time. From 1952 to 2017, the Argonauts won eight more Grey Cups (1952, 1983, 1991, 1996, 1997, 2004, 2012, and 2017), but none of those Grey Cup titles came against Winnipeg. The one-point win over the Blue Bombers on Sunday was the 18th Grey Cup title in Argonauts franchise history, and prevented the Blue Bombers's attempt of winning their third straight Grey Cup.
On Sunday, the Argonauts were led by linebacker Henoc Muamba of Mississauga, Ontario, who was named not only the top Canadian of the Grey Cup, but the most valuable player as well. He had three tackles and one interception.  Another Canadian played an instrumental role in the Argonauts win. With less than a minute left, Argonauts defensive lineman Robbie Smith of Brampton, Ontario blocked the game-winning field goal attempt.
Offensively, Argonauts wide receiver Andrew Harris of Winnipeg, Manitoba led the Argonauts with 55 yards rushing. He had 71 total offensive yards, as he also had 14 yards receiving.
Muamba and Harris are the only players in CFL history to win the Grey Cup MVP Award and top Canadian award in the Grey Cup game in the same season. Harris received the honour in 2019 when the Blue Bombers beat the Hamilton Tiger-Cats 33-12.