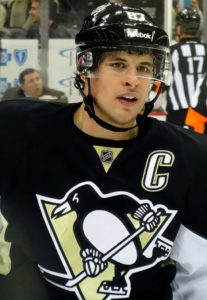 Two-time Canadian Olympic gold medalist Sidney Crosby of Cole Harbour, Nova Scotia has been named the National Hockey League player of the week for the week from November 14-20, 2022 according to the Canadian Press. In four games, he had four goals and seven assists for 11 points.
In addition to the 11 points, Crosby had two power-play points, one game-winning goal, nine shots on goal, one hit, one blocked shot, and 51 faceoff wins. Crosby opened the week with one assist in a 5-2 Penguins loss to the Toronto Maple Leafs on November 15. That was followed by two goals and two assists for four points in a 6-4 Penguins win over the Minnesota Wild on November 17, two assists in a 3-0 Penguins shutout win over the Winnipeg Jets on November 19, and one goal and three assists for four points (including the game-winner) in a 5-3 Penguins win over the Chicago Blackhawks on November 20.
This was the second time this season that Crosby was NHL First Star of the Week. From October 7 to 16, he had two goals and four assists for six points in two games.
In 19 games, Crosby, who won the gold medal for Canada at the 2010 Olympic Winter Games in Vancouver, and the 2014 Olympic Winter Games in Sochi, has 10 goals and 17 assists for 27 points. He is a -1 with 12 penalty minutes, five power-play points, two game-winning goals, 50 shots on goal, 203 faceoff wins, 10 blocked shots, 23 hits, 16 takeaways and 14 giveaways.