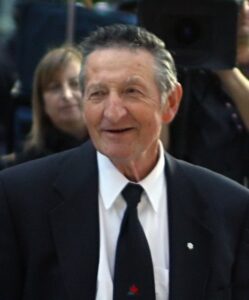 On Thursday, the Canadian sports world learned the news that Walter Gretzky of Canning, Ontario, died of Parkinson's Disease at the age of 82 according to CBC Sports. Walter Gretzky was the father of Wayne Gretzky of Brantford, Ontario, not only the greatest hockey player, but the most dominant athlete in the history of sports. Here are five great Walter Gretzky moments.
5) The 2010 Olympic Winter Games in Vancouver. Prior to the Opening Ceremonies, Walter Gretzky carried the Olympic torch during the Olympic relay. The 2010 Olympic Winter Games in Vancouver, would be a record-setting performance for Canada, as they came away with 14 gold medals, a record for one nation at a single Olympic Winter Games.
4) Golf tournaments to raise money for the Canadian National Institute for the Blind. Walter raised funds for the organization on an annual basis. Among Canadian NHL stars who attended were Gordie Howe, Paul Coffey, Mark Messier, Scott Stevens, and Brendan Shanahan.
3) The home. Inside the Walter Gretzky home in Brantford, Ontario, you could find many of the awards Wayne Gretzky won over the years. In the backyard, you could find the ice rink where Wayne learned how to play hockey.
2) Bounce back from health issues. In 1961, the same year Wayne was born, Walter had a work-related injury while working for Bell Canada as an installer and a repairman. He was temporarily in a coma, and was deaf in his right ear as a result. Then in 1991, Walter had a brain aneurysm, which impacted his short-term memory.
1)Order of Canada award.  In 2007, Walter Gretzky received the Order of Canada. He was recognized for his contributions to minor hockey in Canada, and his dedication to Canadian charities.