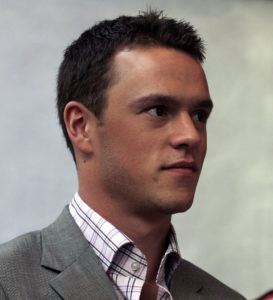 Canadian Olympic gold medalist Jonathan Toews of Winnipeg, Manitoba recorded his seventh career National Hockey League hat trick on Sunday as the Chicago Blackhawks defeated the Washington Capitals 8-5 at the United Center in Chicago, Illinois. Toews had an outstanding performance as he also had two assists for five points and was a +4 with six shots on goal.
Toews scored his first goal unassisted with 5:07 left in the first period to put the Blackhawks up 3-1. He then scored the game winning goal at 7:20 of the third period from Patrick Kane and Carl Dahlstrom to put the Blackhawks up 6-3. Toews's third goal came with 5:03 left in the third period from Kane to put the Blackhawks up 7-5. Toews's assists came on goals by Kane, who also had five points.
Toews's previous hat tricks came in a 5-4 loss to the Pittsburgh Penguins on February 27, 2009, in a 7-4 win over the Vancouver Canucks on May 7, 2010 (playoffs), in a 5-0 win over the Edmonton Oilers on November 17, 2010, in a 6-5 win over the Ottawa Senators on October 29, 2013, in a 5-3 win over the Minnesota Wild on February 21, 2017 and in a 5-4 win over the St. Louis Blues on October 6, 2018.
On the season, Toews has 21 goals and 26 assists for 47 points. He is a +2 with 20 penalty minutes and 126 shots on goal. Toews won his Olympic gold medals for Canada at the 2010 Olympic Winter Games in Vancouver and the 2014 Olympic Winter Games in Sochi.