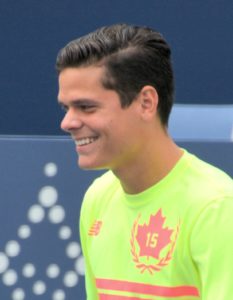 Milos Raonic of Thornhill, Ontario has advanced to his ninth career quarterfinal of a tennis major. On Sunday, Raonic defeated fourth ranked Alexander Zverev of Germany 6-1, 6-1, 7-6 in the fourth round of the 2019 Australian Open. 
Raonic was the player throughout the match that took command. He had 45 winners, compared to only 21 for Zverev. An area where Zverev struggled mightily was his serve. Zverev had 10 double faults and six aces, while Raonic had 15 aces compared to only one double fault.
After Zverev broke Raonic in the first game of the match, Raonic took control as he won the next eight games. One interesting tactic Raonic used throughout the match was using a change of pace. Instead of hitting the tennis ball hard all of the time, he hit the tennis ball at less velocity, like pitchers throw a changeup when they are on the mound while playing baseball. The tactic worked as it seemed to get Zverev off his game, in what could have been one of the worst matches he ever played in his professional career.
Raonic now faces Lucas Pouille of France. Raonic is the 16th seed and Pouille is the 28th seed. Head to head Raonic is 3-0 all-time against Pouille with his wins coming in the quarterfinals of Brisbane, Australia in 2016, the second round of the 2016 Australian Open and the semifinals of the 2018 tournament in Stuttgart, Germany. The other men's quarterfinals have Novak Djokovic of Serbia facing Kei Nishikori of Japan, Rafael Nadal of Spain against Frances Tiafoe of the United States and Stefanos Tsitsipas of Greece facing Roberto Bautista-Agut of Spain.