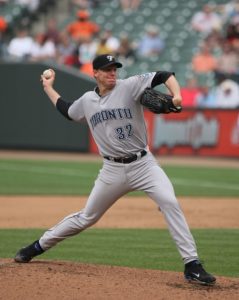 Roy Halladay became second Toronto Blue Jays player all-time on Wednesday to be inducted into the National Baseball Hall of Fame in Cooperstown, New York. In his first year of eligibility, Halladay received 85.4% of the votes. Halladay now joins former Blue Jays second baseman Roberto Alomar.
Of the 425 ballots, Halladay received 363 votes. He was inducted alongside Baltimore Orioles pitcher Mike Mussina, Seattle Mariners designated hitter Edgar Martinez and New York Yankees closer Mariano Rivera.
Halladay was a six-time all-star with the Blue Jays (2002, 2003, 2005, 2006, 2008, 2009) and won the Cy Young Award with the Blue Jays in 2003. In 12 seasons with the Blue Jays, Halladay had a record of 148 wins, 76 losses and an earned run average of 3.43. One area where Halladay was remarkable was his durability. He pitched 49 complete games as a Blue Jay–a statistic very significant when you consider the fact he pitched in an era when starting pitchers rarely threw into the seventh inning.
After his time in Toronto, Halladay went on to pitch four more seasons with the Philadelphia Phillies and won the Cy Young Award in 2010. On October 6, 2010 with the Phillies, Halladay became the second pitcher in baseball history to throw a postseason no-hitter. He accomplished the feat in a 4-0 Phillies win over the Cincinnati Reds in game one of the National League Divisional Series.
Sadly, Halladay will not be at his induction ceremony in Cooperstown this year. That is because he passed away on November 7, 2017 in a plane crash in the Gulf of Mexico.