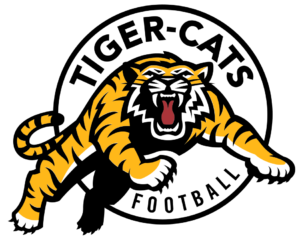 The Hamilton Tiger-Cats  clobbered the Edmonton Eskimos 38-21 on Friday evening at Commonwealth Stadium in Edmonton, Alberta. A major part of the Tiger-Cats offensive attack was the offensive performance of running back Mercer Timmis of Hamilton, Ontario.
The former running back of the University of Calgary Dinos, Timmis shattered his career high in rushing yards. In 17 carries on Friday, Timmis had 133 yards and two touchdowns. Timmis initially had a one yard touchdown which put Hamilton up 13-7 in the first quarter. He then had an explosive 44 yard run for a touchdown which put the game completely of reach as Hamilton expanded their 10 point lead of 31-21 to 38-21.
Timmis has been with the Tiger-Cats for the last three years. However his single best day in rushing yards only came in a week one 28-14 loss to the Calgary Stampeders when he rushed six times for 20 yards.
Meanwhile in Montreal on Friday, three Winnipeg natives found the end zone in the Winnipeg Blue Bombers' 56-10 rout over the Montreal Alouettes. Running back Andrew Harris had 15 carries for 58 yards and caught six passes for 68 yards to lead Winnipeg in receiving. Running back Kienan Lafrance had 10 carries for 50 yards and a touchdown as well as one catch for 23 yards. Nic Demski had three catches for 22 yards and a touchdown. Demski and Lafrance went to the University of Manitoba, while Harris played for the Vancouver Island Raiders of the Canadian Junior Football League.
In other action this past weekend, Toronto Argonauts all-star quarterback Ricky Ray had a significant neck injury in Toronto's 41-7 loss to the Calgary Stampeders. Also, the Ottawa Redblacks defeated the Saskatchewan Roughriders 40-17 in their season opener. There are three teams undefeated to start the 2018 CFL season. The Stampeders are 2-0, while the Lions and Redblacks are each 1-0.