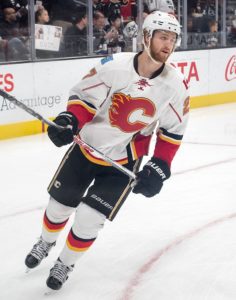 The Calgary Flames had a blockbuster trade with the Carolina Hurricanes on Saturday. It occurred on the second day of the 2018 National Hockey League Entry Draft from Dallas.
The Flames acquired defenseman Noah Hanifin and center Elias Lindholm from the Hurricanes for defenseman Dougie Hamilton of Toronto, Ontario, left winger Micheal Ferland of Swan River, Manitoba and prospect defenseman Adam Fox. Hanifin and Lindholm will be reunited with current Flames head coach Bill Peters as he coached both players last year in Carolina.
Lindholm and Hanifin were both selected in the first round, fifth overall, by the Hurricanes. Lindholm was selected in 2013 and Hanifin was selected in 2015. This past season Hanifin had 10 goals and 22 assists for 32 points, but was a -20 and is a -53 in his three seasons in Carolina. Lindholm had 16 goals and 28 assists for 44 points last season for the Hurricanes.
Hamilton had 17 goals and 27 assists for 44 points last season for Calgary. The Hurricanes will be Hamilton's third team as he started his career with the Boston Bruins. Like Lindholm and Hanifin, Hamilton was a first round draft pick as he was the Boston Bruins' ninth pick in the 2011 NHL Entry Draft. Ferland had 21 goals and 20 assists for 41 points with the Flames last season. During his junior career with the Brandon Wheat Kings, Ferland was an enforcer, however while with his time in Calgary, he spent less time in the penalty box as he only had 135 penalty minutes in 250 games.