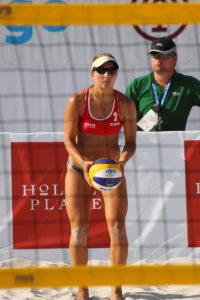 Heather Bansley of London, Ontario and Brandie Wilkerson of Innisfil, Ontario won the silver medal at the FIVB (International Volleyball Federation) Beach Volleyball World Tour event in Ostrava, Czech Republic on Sunday. For Bansley and Wilkerson, it was their second podium finish of the 2017-18 season as they also finished with a bronze medal in Itapema, Brazil on May 20.
In Ostrava this past weekend, Bansley and Wilkerson finished in second place in Pool E with a record of one win and one loss. Their victory came with a straight set 21-11, 21-18 win over Andrea Strbova and Natalia Dubovcova of Slovakia.
In the round of 16, Bansley and Wilkerson beat Akiko Hasegawa and Azusa Futami of Japan 21-18, 21-14. Bansley and Wilkerson then continued their momentum in the quarterfinals with a 15-21, 21-11, 15-12 win over Marleen Ramond-van Iersel and Joy Stubbe of the Netherlands. In the semifinals, Bansley and Wilkerson beat Margareta Kozuch and Karla Borger of Germany 18-21, 22-20, 15-12 before losing to 17-21, 21-15, 15-13 to Barbora Hermannova and Marketa Slukova of the Czech Republic in the gold medal game.
Bansley and Wilkerson have won two of the three medals for Canadian women on the FIVB Beach Volleyball World Tour circuit in 2017-18. On April 22, Sarah Pavan of Kitchener, Ontario and Melissa Humana-Paredes won the event in Xiamen, China.