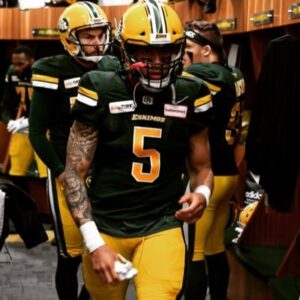 Linebacker Jovan Santos-Knox has come to terms with the Hamilton Tiger-Cats according to 3downnation.com on Saturday. Santos-Knox has played three Canadian Football League seasons, in 2017 and 2018, with the Winnipeg Blue Bombers, and in 2019 with the Edmonton Football Team.
In 2019 with the Edmonton Football Team, Santos-Knox only played in three games, and had 13 defensive tackles, one special teams tackle, and one sack. He missed most of the season with an ankle injury he suffered while with the Blue Bombers in 2018.
In 37 career games, Santos-Knox has 142 defensive tackles, 21 special teams tackles, nine sacks, three forced fumbles, and two interceptions. Santos-Knox's interceptions in the CFL both came in his rookie season of 2017. The first came in the Banjo Bowl, a 48-28 Winnipeg win over the Saskatchewan Roughriders on September 9, 2017, and the second came in a 23-5 Blue Bombers win over the Calgary Stampeders on November 3, 2017.
A native of Waterbury, Connecticut, Santos-Knox is 26 years of age. A product of the University of Massachusetts, Santos-Knox played his college football in the United States for a program that has been around since 1879. While with the Minutemen, Santos-Knox was an Eastern College Athletic Conference All-Star. Santos-Knox also had a tryout with the Philadelphia Eagles in 2016 prior to coming to the CFL.