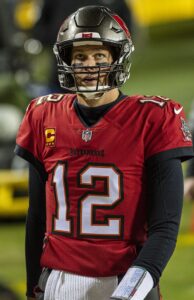 The 52nd Super Bowl will take place in central Florida on Sunday, with the Tampa Bay Buccaneers hosting the Kansas City Chiefs. This will be the first time ever that a team in the Super Bowl will be playing at home.
We all know what a wonderful quarterback Tom Brady has been over the years, and is still producing at a high rate, even at the age of 43. However, what one might not know is that the six-time Super Bowl champion, the four-time Super Bowl most valuable player, and three-time National Football League most valuable player has a Canadian connection.
That is because Brady, a native of San Mateo, California, was drafted in the 18th round in the 1995 Major League Baseball Draft by the Montreal Expos as a catcher. However, Brady decided to play football instead, and went on to play for the University of Michigan, before being drafted in the sixth round, 199th overall, by the New England Patriots in the 2000 NFL Draft.
There will be two other Canadian connections to the Super Bowl on Sunday. The Buccaneers backup tight end is Anthony Auclair of Notre-Dame-des-Pins, Quebec. However, Auclair is expected to see no playing time as he is well behind Rob Gronkowski and Cameron Brate on the Buccaneers depth chart. Also, Toronto's Weeknd will be performing at half-time.