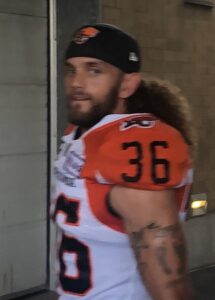 Aaron Grymes is returning to the Edmonton Football Team according to 3downnation.com on Saturday. The star defensive back from Seattle, Washington was released by the British Columbia Lions on Friday.
Grymes was initially with Edmonton from 2013 to 2015, and again from 2017 to 2018. In 2016, he was with the Philadelphia Eagles, where he played one National Football League game, a 24-15 Eagles win over the Atlanta Falcons on November 13.
ln 2019 with the Lions, Grymes had 54 defensive tackles and one interception in 16 games. Grymes's pick came in a 36-32 Lions loss to the Calgary Stampeders.
In 82 games with Edmonton and Lions, Grymes has had 235 defensive tackles, 18 special teams tackles. 12 interceptions, two forced fumbles, one sack, and two touchdowns. Grymes's touchdowns came in a 25-18 Edmonton win over the Hamilton Tiger-Cats (on a 42-yard interception return) on September 19, 2015, and in a 42-32 Edmonton loss to the British Columbia Lions on October 19, 2018 (on a 57-yard interception return).
Grymes's most significant season with Edmonton was in 2015. That year he not only won a Grey Cup, as Edmonton defeated the Ottawa Redblacks 26-20 in the championship game, he was a Canadian Football League All-Star as well. Grymes had 40 defensive tackles, a career-high four interceptions, two special teams tackles, and one sack. Grymes's sack in 2015 was the only one in his CFL career. It came in a 30-5 Edmonton win over the Saskatchewan Roughriders on July 31.