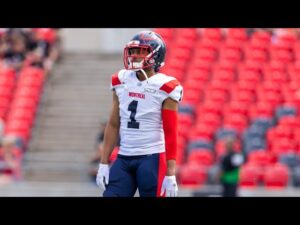 The Hamilton Tiger-Cats signed defensive back Ciante Evans of Fort Worth, Texas on Tuesday according to TSN. The Tiger-Cats will be Evans's third team, as he has also played with the Calgary Stampeders and Montreal Alouettes.
In four seasons with Calgary from 2015 to 2018, and one season with the Alouettes in 2019, Evans had 156 defensive tackles, 12 interceptions, three forced fumbles, and one special teams tackle. In 2019 with the Alouettes, Evans had 29 defensive tackles, and three interceptions.
In 2017, Evans was a Canadian Football League All-Star at cornerback. That year he had career highs in defensive tackles (53), and interceptions (five), along with one forced fumble.
Evans was also part of the Stampeders team that won the 2018 Grey Cup. In a 27-16 Stampeders win over the Ottawa Redblacks at Commonwealth Stadium in Edmonton, Evans was one of three Stampeders players to record an interception. The others were Tre Roberson of Indianapolis, Indiana, and Jamar Wall of Plainview, Texas.
A product of the University of Nebraska, Justin Dunk of 3downnation.com argues that Evans could be a significant asset to the Tiger-Cats because of his versatility. That is because he can play halfback and defensive back.
The Alouettes made several changes to their defensive line on Tuesday. However, they did not sign any new players for their secondary. It will be interesting to see who they replace with Evans.