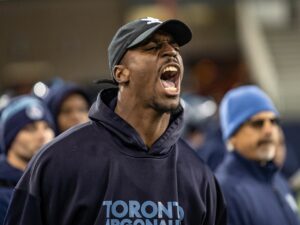 James Wilder Jr. is coming out of retirement. The native of Tampa, Florida, who was one of the most electrifying running backs in the Canadian Football League with the Toronto Argonauts, has signed with the Edmonton Football Team.
What Wilder Jr. was able to accomplish in his rookie season with the Argonauts in 2017 was spectacular. He had 122 carries for 872 yards, and five touchdowns, along with 62 catches for 533 yards. Wilder Jr. was also the CFL's most outstanding rookie, and he won a Grey Cup title, even though the Argonauts were a heavy underdog against the favoured Calgary Stampeders. In the game, a 27-24 Toronto win, Wilder was held in check, however. He only had nine carries for 13 yards, and six catches or 18 yards. Wilder did find the end zone early in the third quarter. He had a two-yard run to pull Toronto within a field goal at the time.
In his career, Wilder has had 361 carries for 2027 yards and nine touchdowns, along with 154 catches for 1487 yards and five touchdowns. In 2019, Wilder had 92 carries for 464 yards and one touchdown, along with 47 catches for 415 yards and four touchdowns.
Wilder Jr. initially announced his retirement last year after signing with the Montreal Alouettes. His father, James Wilder Sr., was a Pro Bowl running back with the Tampa Bay Buccaneers in 1984.