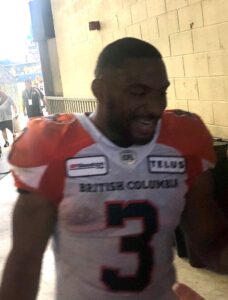 The Toronto Argonauts acquired two players on their offense on Tuesday, in the first day of Canadian Football League free agency. They signed running back John White of Torrance, California, from the British Columbia Lions, and quarterback Antonio Pipkin of Gary, Indiana from the Montreal Alouettes according to cfl.ca. Pipkin is expected to be the Argonauts backup quarterback, as they also signed Nick Arbuckle of Camarillo, California at quarterback on February 1.
White will be joining his fourth CFL team. In addition to the Lions, he has also played for the Edmonton Football Team (2013-2017) and Hamilton Tiger-Cats (2018). In 2019 with the Lions, White reached 1000 yards in rushing for the first time as he had 1004 yards. He also had seven rushing touchdowns, and 46 catches for 341 yards, and one touchdown. In six CFL seasons, White had 646 carries for 3514 yards, and 21 touchdowns, along with 138 catches for 1128 yards, and five touchdowns.
A CFL All-Star in 2014 with Edmonton despite only playing nine games that season, White had 852 rushing yards that year. He was not part of the Edmonton team that won the 2015 Grey Cup because of an Achilles injury.
Pipkin meanwhile played three seasons with the Alouettes from 2017 to 2019. He completed 99 passes in 182 attempts for 1295 yards, four touchdowns, and eight interceptions. Pipkin also had 58 carries for 318 yards and nine touchdowns. In 2019, Pipkin completed 19 of 42 passes for 161 yards and one touchdown, along with 11 rushes for 61 yards, and another major score. By seeing Pipkin go to Toronto, Vernon Adams Jr. appears to be the clear starting quarterback for the Alouettes in 2021.