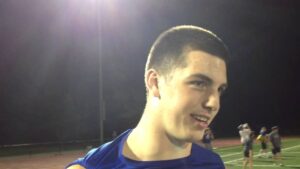 The 2021 Canadian Football League Draft took place on Tuesday with the Hamilton Tiger-Cats selecting tight end Jake Burt of Regina, Saskatchewan first overall. Burt, who is 24 years of age, played four years at Boston College in 2015, 2017, 2018, and 2019. In 14 games, Burt had 23 catches for 307 yards and two touchdowns.
Burt's first National Collegiate Athletic Association touchdown came on a three-yard catch with the Eagles came on November 24, 2018, in a 42-21 Boston College loss to the University of Syracuse Orangemen. He then had a 55-yard catch for the Eagles in a 45-13 Boston College win over the University of Richmond Spiders on September 7, 2019.
Burt becomes the second tight end ever to be selected first overall in the CFL Draft. The first was Gerald Wilcox, who was picked first overall by the Ottawa Rough Riders in 1989.
Of the nine players selected in the first round, four played for Canadian universities. The Saskatchewan Roughriders selected linebacker Nelson Lokombo of Abbotsford, British Columbia from the University of Saskatchewan second overall. The Edmonton Football Team selected defensive lineman Cole Nelson of Ponoka, Alberta from the University of Alberta fifth overall. The Toronto Argonauts selected offensive lineman Peter Nicastro of Calgary, Alberta from the University of Calgary seventh overall, and the Hamilton Tiger-Cats selected linebacker Nick Cross of Regina, Saskatchewan from the University of British Columbia ninth overall.
Four other players were selected in the first round. The Winnipeg Blue Bombers selected offensive lineman Liam Dobson of Ottawa, Ontario from the University of Maine third overall. The British Columbia Lions selected defensive lineman Daniel Joseph of Brampton, Ontario from North Carolina State fourth overall. The Ottawa Redblacks selected linebacker Deshawn Stevens of Toronto, Ontario from the University of Maine sixth overall. The Calgary Stampeders drafted linebacker Amen Ogbongbemiga of Calgary, Alberta from Oklahoma State University eighth overall.