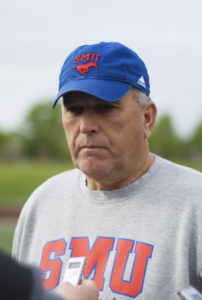 The Hamilton Tiger-Cats might have had the bye week this week, but made the headlines prior to the start of week 10 of the 2017 Canadian Football League season. On Thursday, Kent Austin announced he would no longer be the head coach of the Tiger-Cats and replaced himself with June Jones, who was brought on to the Tiger-Cats coaching staff on August 2 as the assistant head coach.
A native of Portland, Oregon, Jones is the head coach in the Canadian Football League for the first time. He was previously the head coach of the Atlanta Falcons of the National Football League from 1994 to 1996, the San Diego Chargers of the National Football League in 1998, the University of Hawaii Warriors from 1999 to 2007 and the Southern Methodist University Mustangs from 2008 to 2014.
Jones has a history of passing the ball on the majority of occasions, so expect to see Tiger-Cats running back CJ Gable be used more as a receiver in short yardage situations than in the backfield. The Tiger-Cats are simply struggling. They are winless at 0-8, and have the worst offense in the CFL (only scored 148 points) and have the worst defense in the CFL (allowed 310 points). Austin meanwhile will stay on with the Tiger-Cats as their vice-president of football operations.