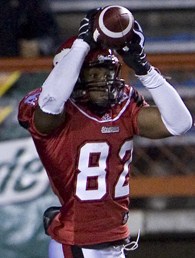 A significant record was broken on Thursday night in the Canadian Football League. Nik Lewis of Mineral Wells, Texas became the Canadian Football League's all-time career leader in receptions.
Lewis, who currently plays for the Montreal Alouettes, now has 1031 receptions in his CFL career. Geroy Simon had the old record with 1029 receptions.
Lewis caught most of his passes in his distinguished CFL career as a member of the Calgary Stampeders. He caught 806 of his 1031 receptions with Calgary from 2004 to 2014. However it should be noted that Lewis set a career high in receptions as a member of the Alouettes just last year with 102 at age 34, and is a major contributor of the Alouettes offense.
Even though it was an historic night for Lewis, he was not in a jovial mood. That is because the Alouettes lost to the Winnipeg Blue Bombers 34-31 in overtime. On the night, Lewis did lead the Alouettes in receptions with 10 and receiving yards with 88.
This was the second time this season the Alouettes lost a tight football game to the Blue Bombers. On July 27, the Blue Bombers beat the Alouettes 41-40 in Manitoba. With the win, the Blue Bombers are now at 7-2 and the Alouettes have fallen to 3-6.