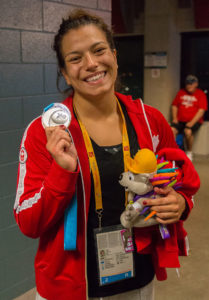 Justina Di Stasio of Burnaby, British Columbia won the bronze medal in the women's 75 kg division at the 2017  World Wrestling Championships in Paris, France on Wednesday. It was Canada's second medal at the World Wrestling Championships as Michelle Fazzari of Hamilton won the bronze medal earlier on Wednesday in the women's 58 kg division.
Di Stasio got off to a strong start as she beat Svetlana Saenko of Moldova 10-0 in the first round and then Pooja Pooja of India 7-0 in the second round. In the quarterfinal, Di Stasio suffered her only defeat as she was beaten by Vasilisa Marzaliuk of Belarus 7-4.
Di Stasio however came back in the repechage and beat Aiperi Medet Kyzy of Kyrgyzstan 6-4 and then Paliha Paliha of China 3-1 in the bronze medal match. Yasemin Adar of Turkey won the gold medal. Adar beat Marzaliuk 5-4 in a tight gold medal match. Hiroe Suzuki of Japan won the other bronze medal after Suzuki beat Epp Mae of Estonia in the other third place match.
Di Stasio's biggest claim to fame prior to Wednesday was winning a silver medal at the 2015 Pan American Games in Toronto and the gold medal at the prestigious Dave Schultz Memorial Wrestling Tournament in Colorado Springs, Colorado in 2015. At the moment she seems to be a strong contender to compete for Canada at the 2020 Olympic Games in Tokyo.  However one must remember that Erica Wiebe of Stittsville, Ontario won the gold medal for Canada in the women's 75 kg division at the 2016 Olympic Games in Rio de Janeiro.