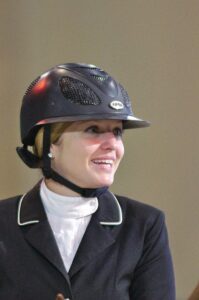 Tiffany Foster of Vancouver, British Columbia had a solid performance at the 2023 Spruce Meadows Masters on Sunday. The veteran equestrian rider finished second in the third grand slam event on the equestrian calendar for 2023. Foster went into a jump off with Martin Fuchs of Switzerland. Foster and Fuchs were clear the first two rounds before Foster had four faults in the final round. Fuchs was clear for all three rounds. Bertram Allen of Ireland finished in third place as he had four faults in the second round after having a clear first round.
Foster had two top-three finishes on the weekend in events that have Olympic status. She also finished in third place with Amy Millar of Ottawa, Ontario, Erynn Ballard of Oakville, Ontario, and Mario Deslauriers of Venise-en-Quebec, Quebec in the team competition on Saturday.
This was Fuchs's third grand slam title. He previously won the Rolex Grand Prix in Geneva, Switzerland in 2019 and 2021. Fuchs becomes the third Swiss champion of the Spruce Meadows Masters. He follows Heidi Robianni in 1984 and Steve Guerdat in 2021.
With the second place finish, Foster now moves up from 35th to 29th in the World Equestrian rankings. Henrik Von Eckermann of Sweden is ranked number one. The silver medal at Spruce Meadows will give Foster confidence as she prepares for the 2024 Olympic Games in Paris.