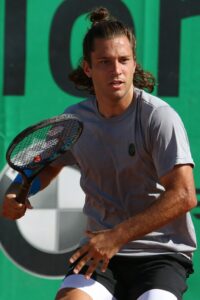 Team Canada came away with a stunning victory in 2023 Davis Cup action in Bologna, Italy on Wednesday. The Canadian team comprised of Alexis Galarneau of Laval, Quebec, Gabriel Diallo of Montreal, Quebec and Vasek Pospisil of Vernon, British Columbia, won all three of their matches against the host Italians, and are now in a tie for first place in Group A with Chile. The Chileans beat Sweden in all three of their matches from Bologna on Tuesday.
Galarneau, the 200th ranked player in the world in men's singles, beat the 38th ranked player in the world, Lorenzo Sonego, 7-6, 6-4. Galarneau was victorious in a very exciting tiebreak, where he won 10-8. In the first set, Sonego was serving the match at 5-4, but was broken by Galarneau, who went on to win two straight games. Then in the second set, Galarneau broke Sonego in the sixth game to take a 4-2 lead.
Diallo, the 158th ranked player in the world, beat Italy's Lorenzo Musetti, 7-5, 6-4. Musetti is 18th in the world, and won two ATP tournaments in 2022. He beat current world number two Carlos Alcaraz of Spain 6-4, 6-7, 6-4 in the final of the Hamburg European Open, and then fellow Italian Matteo Berrettini 7-6, 6-2 in the final of the Napoli Cup. It was the first time ever Galarneau played Sonego and the first time ever Diallo played Musetti.
Then in men's doubles, Galarneau and Pospisil teamed up to beat the Italian duo of Matteo Arnaldi and Simone Bolelli, 6-7, 6-4, 7-6. Canada will next play Sweden on Thursday and then Chile on Saturday.