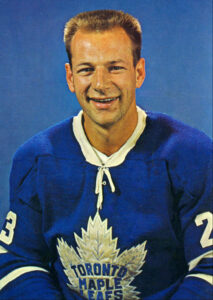 Former Toronto Maple Leafs  All-Star left winger Eddie Shack of Sudbury, Ontario passed away on Saturday at the age of 83 according to Rogers Sportsnet. Shack played 17 National Hockey League seasons with the Toronto Maple Leafs, New York Rangers, Boston Bruins, Los Angeles Kings, Buffalo Sabres and Pittsburgh Penguins from 1958 to 1975.
For three straight seasons, Shack was a National Hockey League All-Star with the Maple Leafs. From 1962 to 1964, Shack had 34 goals and 33 assists for 67 points.
Shack's finest offensive NHL regular season came in 1970-71, when he shared his time with the Kings and Sabres. That season Shack had 27 goals and 19 assists for 46 points, and had career highs in goals and points. In 1047 NHL regular season games in his career, Shack had 239 goals and 226 assists for 465 points. He also had 1431 penalty minutes, 91 power play points and 48 game winning goals.
Shack also helped the Maple Leafs win four Stanley Cups in 1962, 1963, 1964, and 1967. In 74 playoff games, he had six goals and seven assists for 13 points.
Shack is also one of nine players in NHL history to score 20 goals in a season with a minimum of five different teams. His most famous goal came in the playoffs however. He scored the game winning goal in the fifth game of the 1963 Stanley Cup Finals. Shack scored on a deflection from his back in a 3-1 Toronto win over the Detroit Wings. The Maple Leafs won the series four games to one.