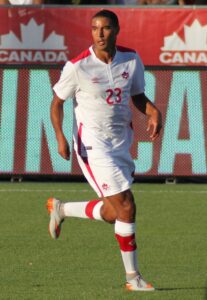 There are only two Canadian teams left in the Major League Soccer is Back Tournament in Orlando, Florida. However on Saturday night, it was a Canadian soccer player that eliminated a Canadian team.
Tesho Akindele of Calgary, Alberta scored in the 60th minute for Orlando City SC in their 1-0 win over the Montreal Impact. For Akindele, it was his second goal of the tournament, as he also had an insurance goal in a 3-1 win over New York City FC on July 14.
Akindele now has 39 Major League Soccer goals since joining Major League Soccer in 2014 with FC Dallas. He has been with Orlando City FC since 2019.
Of the 39 MLS goals Akindele has scored, three goals have come in the MLS Cup Playoffs. Akindele scored one goal in each MLS playoff for FC Dallas from 2014 to 2016. In 2014, Akindele eliminated another Canadian team, the Vancouver Whitecaps, with a goal in a 2-1 FC Dallas win in the knockout round. In 2015, Akindele scored in the second leg of the Western Conference semifinals, in a 2-1 FC Dallas win over the Seattle Sounders. Then in 2016, Akindele also scored for FC Dallas against the Sounders in the postseason.
Internationally, Akindele has three goals for Team Canada. The most important goal came in a 4-0 win over Dominica in 2018 FIFA World Cup qualifying from Toronto, Ontario on June 16, 2015.
On Sunday, Toronto FC and the Vancouver Whitecaps are in action. Toronto FC is taking on New York City FC, an the Whitecaps are playing Sporting Kansas City in the round of 16.