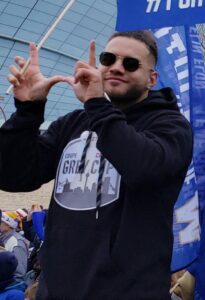 Week nine of the Canadian Football League has come to a close and three Canadians recorded touchdowns on winning teams. They were Winnipeg Blue Bombers running back Brady Oliveira of Winnipeg, Manitoba, Blue Bombers slotback Nic Demski of Winnipeg, Manitoba, and Montreal Alouettes wide receiver Regis Cibasu of Montreal, Quebec.
In the Blue Bombers's 50-14 win over the British Columbia Lions on Thursday, Oliveira found the end zone twice, and Demski once. Oliveira had a three-yard run with 1:55 left in the first half to put Winnipeg up 23-4, and then had a 27-yard run with eight minutes and 47 seconds left in the game to put Winnipeg up 43-14. Demski meanwhile had a 30 yard touchdown catch from quarterback Zach Collaros at the 3:13 mark of the the third quarter to put Winnipeg up 33-4 at the time.
On Thursday, Oliveira had nine rushes for 67 rushing yards and two rushing touchdowns, along with one catch for seven receiving yards. Demski had five catches for 62 receiving yards and one touchdown catch, along with two rushes for 21 rushing yards. In 2023, Oliveira has 112 rushes for 593 rushing yards and three rushing touchdowns, along with 17 catches for 254 receiving yards. Demski has 33 catches for 497 receiving yards and four touchdown catches, and eight rushes for 48 rushing yards. With the win, the Blue Bombers improved to a record of six wins and two losses, and are in a first place tie with the British Columbia Lions in the West Division.
In the Alouettes's 27-14 win over Hamilton, Cibasu had a 37-yard touchdown catch from quarterback Cody Fajardo with six minutes and 40 seconds left in the fourth quarter to close out the scoring. In 2023, Cibasu has two catches for 45 receiving yards and one major score. With the win, Montreal improved to a record of four wins and three losses, are in second place in the East Division, and four points back of the first place Toronto Argonauts.