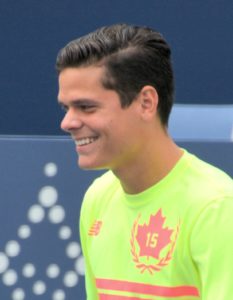 Three Canadians delivered first round upsets at the 2023 National Bank Open over the last 48 hours. In Toronto on Monday in men's singles action, 2016 Wimbledon finalist Milos Raonic of Thornhill, Ontario, the 545th ranked player in the world, beat the ninth seed and 2022 United States Open semifinalist Frances Tiafoe of the United States, 6-7, 7-6, 6-3. In Toronto on Tuesday in men's singles action, Gabriel Diallo of Montreal, Quebec beat Daniel Evans of Great Britain, the 21st ranked player in the world, 7-6, 7-5. In Montreal on Tuesday in women's action, the 2021 United States Open finalist Leylah Annie Fernandez of Montreal beat the 57th ranked Peyton Stearns of the United States 6-3, 6-2.
The biggest story in Raonic's win was once again his serve. He had 37 aces compared to only eight for Tiafoe. That was the second most number of aces Raonic has ever had in a three-set match. For Diallo it was his first win at the ATP level. Double faults was the story here as Evans had eight double faults compared to three for Diallo. Fernandez meanwhile had five aces compared to zero for Stearns.
Raonic will face Taro Daniel of Japan in round two. Raonic has won both prior meetings. His first win came in the first round of the 2014 United States Open, 6-3, 6-2, 7-6. Raonic's second win came in the first round of Delray Beach, 6-1, 7-5. Daniel is ranked 115th.
Diallo will face Alex De Minaur of Australia, the 18th ranked player in the world on Wednesday in the second round. Fernandez will face the 11th seed, Beatriz Haddad Maia of Brazil, the 11th seed, and 2023 French Open semifinalist. Head-to-head, Fernandez and Haddad Maia have beaten each other once. Fernandez beat Haddad Maia 6-1, 6-4 in the semifinals of the 2022 Monterrey Open. Haddad Maia beat Fernandez 7-6, 6-1 in the second round of the 2022 National Bank Open in Toronto.