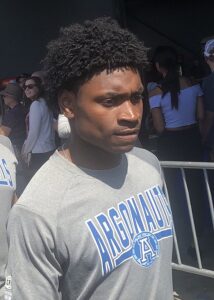 Three Canadians found the end zone on the opening weekend of the 2021 Canadian Football League season. Kurleigh Gittens Jr. of Ottawa, Ontario, and Juwan Brescacin of Mississauga, Ontario both had touchdown catches for the Toronto Argonauts in a 23-20 Argonauts win over the Calgary Stampeders on Saturday. Meanwhile, Brayden Lenius of Regina, Saskatchewan had a touchdown catch on Friday for the Saskatchewan Roughriders in a 33-29 Roughriders win over the British Columbia Lions. Lenius and Gittens Jr. each had their first career CFL touchdown, while Brescacin had his seventh CFL touchdown catch.
In the Stampeders/Argonauts game, Bresacin opened the scoring with a nine-yard touchdown catch, four minutes and 23 seconds into the contest. The Argonauts later successfully executed a two-point convert as John White had a three-yard run. Then with the Stampeders leading 20-12, Gittens Jr. then had a 27-yard touchdown catch with eight minutes and 26 seconds left in the fourth quarter to pull the Argonauts within two points. Just like the first touchdown, the Argonauts got the two-point conversion on a three-yard pass from McLeod Bethel-Thompson to Eric Rogers. Bresacin ended the game with one catch for nine yards, and Gittens Jr. had two catches for 28 yards.
Lenius's touchdown was a 12-yard catch with 2:59 left in the first quarter. At the time, the Roughriders went up 14-0. In other CFL action in week one, Ottawa beat Edmonton 16-12 and Winnipeg beat Hamilton 19-6.