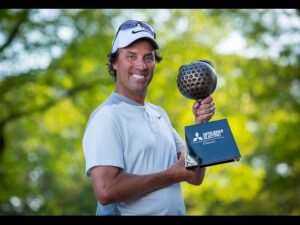 Stephen Ames of Vancouver, British Columbia has won the 2023 Boeing Classic in Seattle, Washington. On Sunday, Ames posted a three-round score of -19, and beat his closest competitor, Miguel Angel Jimenez of Spain, by seven strokes.
Ames -19, was tied for the best score ever in the history of the Boeing Classic. Jerry Kelly of Madison, Wisconsin was also -19  in 2017. Ames's seven stroke win was the largest margin of victory in the history of the tournament, The previous high was three strokes. Those golfers who had three stroke wins were David Eger of Fort Meade, Maryland (2005), 1985 and 1993 Masters champion Bernard Langer of Germany (2010), Scott Parel of Pontiac, Michigan (2018), and Brandt Jobe of Oklahoma City, Oklahoma (2019).
Ames's seven stroke win was also the largest margin of victory in a PGA Tour Champions event this season. Steve Stricker of Edgerton, Wisconsin won by six strokes at the Mitsubishi Electric Championship in Hawaii on January 21, and then again at the Tradition on May 14. Both times Stricker posted scores of -23.
In Seattle this past weekend, Ames had a score of -5 in Friday's first round, -5 again in Saturday's second round, and -9 in Sunday's third round. In the first round, Ames had five birdies, one eagle and two bogeys. He birdied the first, second, eighth, 11th and 16th holes, eagled the 15th hole, and bogeyed the fourth and 18th holes. In the second round, Ames had six birdies and one bogey. He birdied the first, third, fifth, eighth, 12th, and 16th holes, and bogeyed the seventh hole. Then in the third round, Ames had five birdies and two eagles. He birdied the sixth, 14th, 15th, 16th, and 17th holes, and eagled the first and 18th holes.
This was the sixth PGA Tour Champions title for Ames this year. He previously won the 2017 and 2023 Mitsubishi Electric Classic in Atlanta, the 2021 and 2023 Principal Charity Classic in Des Moines, Iowa, and  the 2023 Trophy Hassan II in Morocco. With the win at the Boeing Classic, Ames is third this season on the Charles Schwab Cup Money List with $1,611,296. Stricker leads with $3,593, 060, and Langer is in second with $1,659,355.