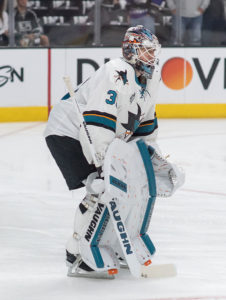 According to Rogers Sportsnet on Wednesday, the Toronto Maple Leafs have signed goaltender Martin Jones of North Vancouver, British Columbia to a one-year contract worth $875,000. The Maple Leafs are the fifth National Hockey League franchise he has played for. Jones was previously with the Los Angeles Kings from 2013 to 2015, the San Jose Sharks from 2015 to 2021, the Philadelphia Flyers from 2021 to 2022, and the Seattle Kraken from 2022 to 2023.
In 48 games with the Kraken in 2022-23, Jones had 27 wins, 13 regulation losses, and three losses in extra time. He had a goals against average of 2.99, save percentage of .886, and three shutouts. Jones's shutouts came in a 4-0 Kraken win over the Minnesota Wild on November 3 where he made 22 saves, in a 4-0 Kraken win over the Montreal Canadiens on January 9 where he made 21 saves, and in a 3-0 Kraken win over the Boston Bruins on January 12 where he made 27 saves. The shutout Jones recorded for Seattle against Boston was noteworthy because the Bruins won the Presidents' Trophy this past season for having the most points in the National Hockey League with a record total 135 points.
Jones is one of three Maple Leafs goaltenders on the roster for the 2023-24. He is joined by Matt Murray of Thunder Bay, Ontario, and Ilya Samsonov of Magnitogorsk, Russia.