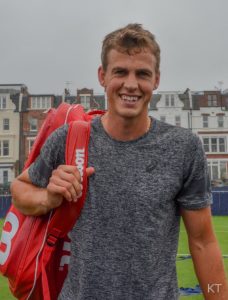 There are three Canadians who are now in the round of 16 at the 2020 United States Open in Flushing Meadows, New York. They are Vasek Pospisil of Vernon, British Columbia, Felix Auger-Aliassime of Montreal, Quebec, and Denis Shapovalov of Toronto, Ontario. In fact, this was the first time at a grand slam tennis event that there were three Canadians who reached the third round.
The most thrilling match by a Canadian in round three came from Pospisil, who is currently ranked 94th in the world. In a five-set win over Roberto Bautista-Agut of Spain, the eighth seed, and 2019 Wimbledon champion, Pospisil came back from two sets to one, to win 7-5, 2-6, 4-6, 6-3, 6-2 on Saturday. Where Pospisil was most effective was with his serve. He had 19 aces, compared to Bautista-Agut's two. Pospisil will now play 21st ranked Alex De Minaur of Australia in the second round.
Shapovalov's round three win came on Friday over Taylor Fritz of the United States. In another five-set marathon, Shapovalov won by a score of 3-6, 6-3, 4-6, 7-6. 6-2. Shapovalov will now face seventh-ranked David Goffin of Belgium in the round of 16.
Meanwhile, it was a dominant performance by Auger-Aliassime on Saturday, as he beat Corentin Moutet of France, 6-1, 6-0, 6-4. Auger-Aliassime will now battle second-ranked Dominic Thiem of Austria in the fourth round. Thiem is a three-time grand slam finalist as he has reached the final two at the 2018 and 2019 French Open, and the 2020 Australian Open.