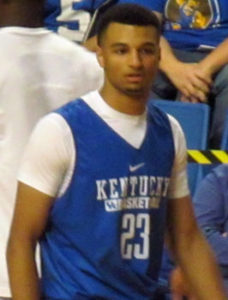 Heading into the 2020 NBA postseason, it was expected by many that Nikola Jokic, the 7'0″, 285 pound center from Sombor, Serbia would lead the Denver Nuggets in scoring. The Olympic silver medalist from the 2016 Olympic Games in Rio de Janeiro, Jokic averaged 19.9 points per game during the regular season, and has been a huge difference maker in the paint with Denver over the last two years.
However, over the last month, one could make the argument that the Nuggets' primary offensive option is now Jamal Murray of Kitchener, Ontario. On Saturday in Orlando, Murray scored 27 points in a 110-101 Nuggets win over the Los Angeles Clippers. With the win, the Western Conference semifinal series is now tied at two games apiece.
In four of the five Nuggets postseason wins to date, Murray has led the Nuggets in scoring. He had 36 points in a 135-125 Denver win over the Utah Jazz in overtime on August 17, 42 points in a 117-107 Denver win over the Jazz on August 25, and 50 points in a 119-107 win over the Jazz on September 1.
There is no doubt that the Nuggets need Murray and Jokic to play at a high level to beat the Clippers. Murray is at 28.9 points per game, and Jokic is at 25 points per game. The Clippers have a strong Canadian connection as their star player, Kawhi Leonard, was the NBA Finals MVP for the Toronto Raptors when they beat the Golden State Warriors in six games to win their only championship in franchise history.