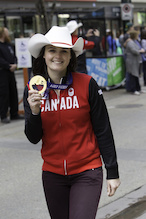 Canadian Olympic gold medalist Marielle Thompson of Whistler, British Columbia has opened the 2018-19 World Cup women's ski cross season with a bronze medal. Thompson landed on the podium at a World Cup on Monday in Arosa, Switzerland, where she beat out Andrea Limbacher of Austria in the big final to reach the podium.
Fanny Smith of Switzerland won the gold medal and Sandra Naeslund of Sweden won the silver medal. Thompson reached the top of the podium twice in November in non-World Cup events. She won the Austrian National Championship on November 24 and then the Europa Cup on November 25. Both events were held in Pitztal, Austria.
This is a bounce back year for Thompson after she ruptured her Anterior Cruciate Ligament and injured her Medial Cruciate Ligament in October of 2017, while training for the 2018 Olympic Winter Games in Pyeongchang, where she was knocked out in the elimination round by Lisa Andersson of Sweden and Talina Gantenbein of Switzerland. Thompson had posted the fastest time of one minute, 13.11 seconds in the seeding round of the 2018 Olympic Winter Games. Thompson previously won a gold medal for Canada at the 2014 Olympic Winter Games in Sochi. The bronze medal in Switzerland should give Thompson confidence as she prepares for the 2022 Olympic Winter Games in Beijing.