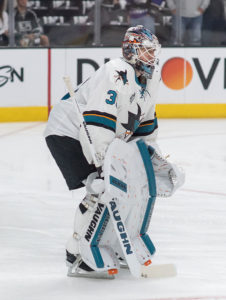 San Jose Sharks goaltender Martin Jones of Vancouver, British Columbia delivered his first shutout of the 2018-19 National Hockey League regular season on Tuesday. Jones made 26 saves as the Sharks defeated the Minnesota Wild 4-0 at the Xcel Energy Center in St. Paul, Minnesota.
Jones made eight saves in the first period, eight saves in the second period and 10 saves in the third period. It was his 20th career shutout and 13th with the Sharks. The other seven came with the Los Angeles Kings over two seasons to begin his NHL career.
Offensively for the Sharks, it was a strong game for Logan Couture of Guelph, Ontario. Couture scored twice, including the game winning goal at 9:49 of the first period from Lukas Radil and Radim Simek. Couture was strong defensively as well. He and Brent Burns of Ajax, Ontario, led the Sharks with a +3.
San Jose is currently tied for second place in the Pacific Division with the Anaheim Ducks. Each team has 43 points. However the Sharks have momentum as they have won five straight games. During the streak they have also beaten the Arizona Coyotes 5-3, the New Jersey Devils 5-2, the Dallas Stars 3-2 and the Chicago Blackhawks 7-3. On the season, Jones has a record of 14 wins, seven regulation losses, three losses in extra time, a 2.81 goals against average and .901 save percentage.