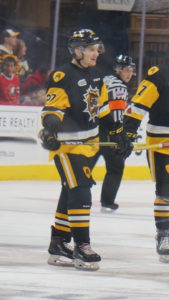 Robert Thomas of Aurora, Ontario has led the St. Louis Blues to the 2019 Western Conference Finals of the National Hockey League Stanley Cup Playoffs. In game seven of the Blues' second round series with the Dallas Stars on Tuesday, Thomas led the Blues in scoring with two points as he notched two assists in the Blues' 2-1 victory. The game was very dramatic as it went into double overtime before the Blues won the series four games to three.
Thomas picked up his first assist on a goal by Vince Dunn of Lindsay. Ontario at 13:30 of the first period which put the Blues up 1-0 at the time. Canadian Olympic gold medalist Alex Pietrangelo of King City, Ontario picked up the other assist. Pietrangelo won the gold medal for Canada at the 2018 Olympic Winter Games in Pyeongchang.
Thomas then picked up a second assist on the overtime winner by Patrick Maroon at 5:50 of double overtime. Thomas stickhandled the puck effectively off the faceoff, and took a shot that hit the post. Maroon was there to score off the rebound. Tyler Bozak of Regina, Saskatchewan notched the other assist for the Blues.
The Blues will play the winner of Wednesday's game seven between the Colorado Avalanche and San Jose Sharks. Like the Blues and Stars series, the Avalanche and Sharks are going to a deciding game with the series currently deadlocked at three games apiece. In game six on Monday, the Avalanche forced a seventh game with a 4-3 overtime win. In the Eastern Conference, the Boston Bruins shutout the Columbus Blue Jackets 3-0 to win their second round playoff series four games to two.