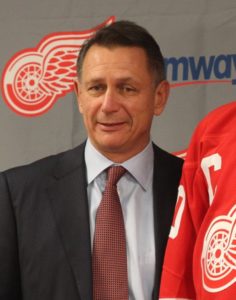 The Edmonton Oilers of the National Hockey League named Ken Holland of Vernon, British Columbia their general manager on Tuesday. Holland becomes the eighth general manager of the Oilers while they have been in the NHL.
Holland had been the general manager of the Detroit Red Wings from 1997 to 2019. In those 21 seasons, the Red Wings made the playoffs in 18 of them and won the Stanley Cup with Detroit in 1998, 2002 and 2008. However, skeptic Oilers fans have some reason for concern. That is over the last three seasons Holland was the general manager of the Red Wings, Detroit failed to make the playoffs.
The Red Wings went through an organizational shift this past April when they announced that Steve Yzerman would join them as their general manager from the Tampa Bay Lightning and that Holland would be the Red Wings senior vice-president. Even though Holland was considered as being promoted, he would have a reduced role in the final decision making when it came to Red Wings player personnel.
This will obviously not be a quick fix for Holland in Edmonton. The Oilers need more consistency behind their two star players of Connor McDavid and Leon Draisaitl. One of Holland's first assignments will be to hire a new head coach. Among the names being considered are Dave Tippett, Kris Knoblauch, Todd Nelson, Dan Bylsma and Jay Woodcroft.