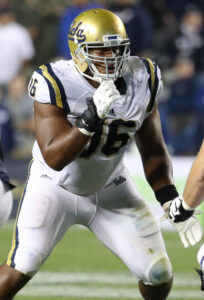 According to Rogers Sportsnet on Monday, the Houston Texans traded defensive tackle Eli Ankou of Ottawa, Ontario to the Dallas Cowboys for a seventh round draft pick in the 2022 National Football League Draft. The 26-year-old plans to be used as a nose tackle in the Cowboys' 3-4 defensive scheme.
Ankou has moved around significantly this season. He started with the Cleveland Browns, but was then waived on September 6. He was claimed off waivers by the Indianapolis Colts on September 7, before being waived again on October 17. Then two days later, Ankou joined the Houston Texans for the second time in his career. He initially signed with the Texans on May 12, 2017, before being put on waivers by Houston on September 2, 2017.
Ankou has played 20 NFL career games from 2017 to 2019 with the Jacksonville Jaguars and Browns. In that time he has had 26 combined tackles (15 solo tackles and 11 assisted tackles), two tackles for a loss, two quarterback hits, and one and a half sacks. Of his 20 games played, Ankou had two starts with the Browns in 2019.
With the Jaguars in his rookie season, Ankou recorded one quarterback hit and half a sack in a 27-0 Jacksonville win over the Indianapolis Colts on October 22, 2017. Then last season, Ankou had a tackle for a loss in a 21-7 Browns win over the Pittsburgh Steelers on November 14, 2019.
Ankou played his high school football with the St. Peter Catholic High School Knights in Orleans, Ontario. He then went on to play college football at the University of California-Los Angeles.
The Cowboys have struggled mightily this season. At two wins and six losses, they have given up 266 points, the most in the NFL.