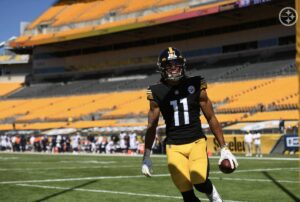 Chase Claypool of Abbotsford, British Columbia continued his fine start to his National Football League career on Sunday. In a 28-24 Pittsburgh Steelers win over the Baltimore Ravens, Claypool caught the game-winning touchdown.
With the Steelers trailing the Ravens 24-21, Claypool caught an eight-yard touchdown pass from Steelers quarterback Ben Roethlisberger. The major score came with seven minutes and 29 seconds left in the contest. Claypool finished the game with five catches for 42 yards.
The Ravens had two opportunities to march down the field themselves and win the contest. However, with two minutes left, Ravens quarterback Lamar Jackson fumbled the football on the Steelers six-yard line, and the football was recovered by Steelers linebacker Robert Spillane. After the Steelers had to punt the football, the Ravens had 52 seconds to get the game winning touchdown on a drive starting from the Baltimore 37 yard line. The Ravens got a first down on a 32 yard pass from Jackson to wide receiver Willie Snead, but the Ravens could not get the winning six points with the football from the Pittsburgh 23 yard line.
Claypool now has 23 catches for 375 yards and five touchdowns receiving this season. He also has 13 rushing yards and another two major scores on the ground.
Pittsburgh meanwhile remains the only undefeated team in the NFL at seven wins and zero losses. The Ravens dropped to five wins and two losses.