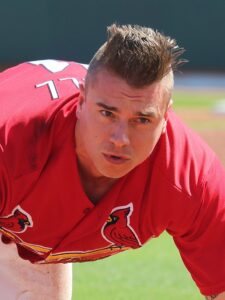 According to Gregg Palermo of FOX Sports on Tuesday, St. Louis Cardinals leftfielder Tyler O'Neill of Burnaby, British Columbia won his first career Gold Glove award. The award is presented to the best defensive player at every position in Major League Baseball in each league. O'Neill was one of three outfielders to win a National League Gold Glove award as he was joined by San Diego Padres centerfielder Trent Grisham of Burleson, Texas, and Los Angeles Dodgers rightfielder Mookie Betts of Nashville, Tennessee.
O'Neill did not commit an error in 89 chances this season. Despite the fact the Cardinals only played 58 games (schedule was limited due to coronavirus), O'Neill did start a career-high 41 games in left field, and played 48 games. He also played a career-high 344 innings in left field.
Despite his strong defense, O'Neill really struggled with the bat this year. He batted a career worst .173, as he only had 24 hits in 139 at bats. O'Neill needs to show a drastic improvement when it comes to his batting average for him to stay in the Cardinals lineup.
O'Neill was one of two Cardinals players to receive a Gold Glove Award. Kolten Wong of Hilo, Hawaii, won the National League Gold Glove award at second base for the second straight year.