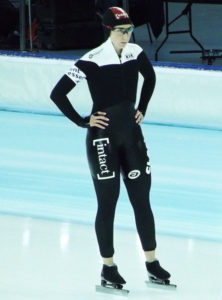 Team Canada won a bronze medal  on Friday in the women's team pursuit at a World Cup speed skating competition in Heerenveen, Netherlands. The Canadian team comprised of Ivanie Blondin and Isabelle Weidemann of Ottawa, Ontario alongside Josie Morrison of Kamloops, British Columbia.
Blondin, Weidemann and Morrison posted a time of 3:00.65. Japan won the gold medal with a time of 2:55.77. Netherlands won the silver medal with a time of 2:59.06.
Team Canada earned a podium position by 1.49 seconds. Poland finished in fourth place with a time of 3:02.14.
The Canadian women have won one Olympic medal in the women's team pursuit in the history of the Olympic Winter Games. Team Canada won silver at the 2006 Olympic Winter Games in Turin with a team that could be considered a Canadian dream team. They included Clara Hughes, Cindy Klassen, Kristina Groves, Christine Nesbitt and Shannon Rempel. Hughes, Klassen, Groves and Nesbitt combined to win 12 Olympic individual medals.
Four years later in Vancouver, Team Canada was unable to repeat their medal magic as Groves, Nesbitt and Brittany Schussler were stunned by the United States by five one hundredths of a second. Then at the 2014 Olympic Winter Games in Sochi, Schussler, Nesbitt and Kali Christ were beaten by Russia in the quarterfinals by 0.53 seconds. Blondin, Weidemann and Morrison may not have the resumes as their predecessors, but the bottom line is the Canadian women have been unable to medal in this event at the last two Olympic Winter Games when more expectations were on the line. It will now be interesting to see how Blondin, Weidemann and Morrison do as darkhorses.