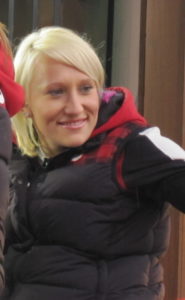 Two-time Canadian Olympic gold medalist Kaillie Humphries of Calgary, Alberta has begun her 2017-18 bobsled season with a World Cup gold medal. On Thursday, Humphries and Melissa Lotholz of Barrhead, Alberta won a women's World Cup bobsled event in Lake Placid, New York.
Humphries and Lotholz had a two-run time of 1:54.40. Elana Meyers Taylor and Lauren Gibbs of the United States won the silver medal with a time of 1:54.43. Stephanie Schneider and Lisa Marie Buckwitz of Germany won the bronze medal with a time of 1:54.60.
Humphries and Lotholz reached the podium by 0.21 seconds. Jamie Greubel Poser and Aja Evans of the United States finished in fourth place with a time of 1:54.61.
There has been a lot of talk in Canadian bobsledding at the moment that Humphries wants Heather Moyse, who won the gold medal with her at the 2010 Olympic Winter Games in Vancouver and at the 2014 Olympic Winter Games in Sochi to be her brakewoman at the 2018 Olympic Winter Games in Pyeongchang. However, as long as we move more and more closer to Pyeongchang, it is becoming more and more likely that Lotholz will be Humphries's brakewoman as Humphries tries to win her unprecedented third consecutive Olympic gold medal in women's bobsledding three months from now.