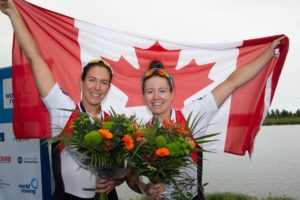 Team Canada came away with two bronze medals on Sunday in a Rowing World Cup in Rotterdam, Netherlands. Gabrielle Smith of Unionville, Ontario and Andrea Proske of Langley, British Columbia won the bronze medal in the women's doubles sculls and in the women's eights, Canada also won the bronze medal.
Smith and Proske had a third place time of eight minutes, 3.77 seconds. They reached the podium by 4.01 seconds over Lenka Antosova and Kristyna Fleissnerova of the Czech Republic. Antosova and Fleissnerova had a fourth place time of 8:07.78. Romania's Nicoleta-Ancuta Bodnar and Simona Geanina Radis won the gold medal with a time of 7:58.39. Australia's Amanda Bateman and Genevieve Horton won the silver medal with a time of 7:59.11.
In the women's eights, Team Canada won the bronze medal with a third place time of 6:46.77. They were able to beat Russia by 2.7 seconds to earn a medal. Russia's fourth place time was 6:49.47. New Zealand won the gold medal with a time of 6:32.4 and Australia won the silver medal with a time of 6:36.04. Team Canada was comprised of Madison Mailey of Lions Bay, British Columbia, Kasia Gruchalla-Wesierski of Calgary, Alberta, Jennifer Martins, Rebecca Zimmerman and Avalon Wasteneys of Toronto, Ontario, Stephanie Grauer and Kristen Kit of Vancouver, British Columbia, and Christine Roper and Susanne Grainger of London, Ontario. The medals for Mailey, Gruchalla-Wesierski, Martins, Zimmerman, Wasteneys, Grauer, Kit, Roper, Grainger, Smith and Proske will give them confidence as they prepare for the 2020 Olympic Games in Tokyo.