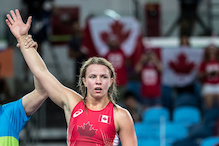 Canadian Olympic gold medalist Erica Wiebe of Ottawa, Ontario won the gold medal in the women's 76 kilogram division at the Yasar Dogu Wrestling Tournament in Istanbul, Turkey on Sunday. It was one of three medals won by Canadian women on the weekend. Danielle Lappage of Olds, Alberta won the silver medal in the women's 68 kilogram division and Samantha Stewart of Fredericton, New Brunswick won the bronze medal in the women's 55 kilogram division.
In the women's 76 kilogram division gold medal match, Wiebe beat Aline Da Silva Ferreira of Brazil 2-1 in the final. Yasemin Adar of Turkey and Iselin Maria Moen Solheim of Norway won the bronze. Wiebe beat Kiran Kiran of India 10-0 in qualification, Adar 6-1 in the quarterfinals and Aline Rotter Focken of Germany 3-0 in the semifinals.
In the women's 68 kilogram division, Lappage lost to Maryia Mamashuk of Belarus in the gold medal match. Anna Carmen Schell of Germany and Blessing Oborududu of Nigeria each won bronze. Lappage beat Yauheniya Andreichykava of Belarus 10-0 in the qualification, Alina Berezhna Stadnik Makhynia of the Ukraine 9-2 in the quarterfinals and Oborududu 8-1 in the semifinals.
In the women's 55 kilogram division, Stewart and Marina Sedneva of Kazakhstan each won the bronze medal. Stewart beat Zelina Sidakova of Belarus in the bronze medal match after Sidakova lost due to injury. Bediha Gun of Turkey won the gold medal and Zulfiya Yakhyarova of Kazakhstan won the silver medal. Stewart beat Elvira Kamaloglu of Turkey in the quarterfinal 12-3 before losing to Gun 10-0 in the semifinal.
Wiebe won a gold medal for Canada in the women's 75 kilogram division at the 2016 Olympic Games in Rio de Janeiro. The medals for Wiebe, Lapagge and Stewart will give them confidence as they prepare for the 2020 Olympic Games in Tokyo.