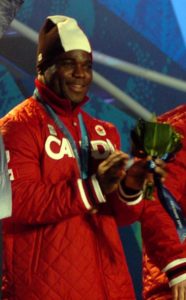 Team Canada won three World Cup medals in bobsled  in Park City, Utah on Friday. While racing on the track that hosted the 2002 Olympic Winter Games, two Canadian bobsled teams reached the podium in the four-man, while Kaillie Humphries of Calgary, Alberta and Melissa Lotholz of Barrhead, Alberta won the silver medal in the women's competition.
In the four-man, Justin Kripps of Summerland, British Columbia, two-time Olympic medalist Lascelles Brown of Calgary, Alberta, Ben Coakwell of Regina, Saskatchewan and Neville Wright of Edmonton, Alberta won the silver medal with a time of 1:36.83. Chris Spring of Calgary, Alberta, Jesse Lumsden of Edmonton, Alberta, Alexander Kopacz of London, Ontario and Oluseyi Smith of Ottawa, Ontario won the bronze medal with a time of 1:36.86.
Germany, led by driver Nico Walther won the gold medal with a time of 1:36.80. Kripps's crew was 0.04 seconds faster than fourth-place Latvia, driven by Oskars Melbardis, who posted a time of 1:36.87. Spring reached the podium by only one one thousandth of a second.
There was a second four-man bobsled competition on Sunday and was won by Johannes Lochner of Germany. In the four-man World Cup standings, Spring is in second with 384 points and Kripps is in fifth with 370 points. Lochner is the leader with 417 points.
In the women's bobsled event, Humphries and Lotholz posted a second place time of 1:40.82. The United States finished first and third, with the Germans fourth. The gold medal winners were Jamie Greubel Poser and Lauren Gibbs with a time of 1:40.72. The bronze medal winners were Elana Meyers Taylor and Lolo Jones with a time of 1:40.99. Humphries and Lotholz reached the podium by 0.3 seconds as Stephanie Schneider and Lisa Marie Buckwitz of Germany had a time of 1:41.12. Humphries and Lotholz have great confidence heading into the 2018 Olympic Winter Games in Pyeongchang, as they are the current World Cup leaders in women's bobsled. At 435 points, they have 18 more points than Greubel Poser and Gibbs.
The World Cup bobsled and skeleton season now moves to Whistler, British Columbia for events November 24 and November 25.