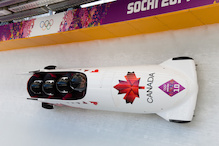 While playing in the Canadian Interuniversity Sport, Jesse Lumsden of Edmonton, Alberta was an elite running back for the University of McMaster. He won the 2004 Hec Creighton Award and in 2005 was the first round pick, sixth overall in the Canadian Football League Draft. However a series of injuries prevented him from maximizing his potential, and in 2010, Lumsden left football all together. Over the last eight years, Lumsden has been a high performance Canadian bobsledder. He won a silver medal in the two-man with Lyndon Rush of Humboldt, Saskatchewan at the 2012 World Bobsleigh Championships in Lake Placid and a silver medal again at the 2017 World Bobsleigh Championship in Konigssee, Germany. Lumsden has a strong chance of qualifying for the Canadian men's bobsled team at the 2018 Olympic Winter Games in Pyeongchang, and if he does make it, will be a strong medal contender. I am thrilled to share my interview with Jesse Lumsden.
Q: Whenever you started your football career, did you ever dream that you would be in the position that you are now, as a high performance athlete in bobsled and trying to win an Olympic medal for Canada in Pyeongchang?
A: "Quite simply no. My dad had always mentioned after football I should consider bobsleigh and I really didn't pay much mind to it. I've always been an Olympic junkie—summer and winter. Fate dealt me some interesting cards where it laid out the opportunity for me in 2009, to go try out the sport for the first time, just to see if I liked it. Even in that, my mentality was I'm going to use it as a cross training opportunity to get ready for the next football season. What I didn't expect to happen was me falling in love with the sport quite quickly and performing to a point where the BCS (Bobsleigh Canada Skeleton) felt that they wanted to invest in resources into me to see if I could get to the point I needed to leading into the 2010 Olympic Winter Games in Vancouver. I was thankful for the opportunity because it led me down a whole different career path."
Q: What are the things you learned from your football career that you have been able to take with you into bobsledding?
A: "The importance of team, the dynamic of team and how to work as a team. One of the greatest things about football is that it is the greatest team game in the world. If one person fails to do their job, the whole system falls apart. In basketball and hockey, you have support systems. You can have a guy that can go end to end or do like Kobe Bryant did and score 81 points in a game. In football you can't do that. You rely on the person beside you and behind you every single play to execute your job and execute your team goal. I really found it was important to take that mentality into bobsleigh as well—especially with individual sport athletes coming into the sport."
Q: How impressed have you become with Justin Kripps as a bobsledder?
A: "Very impressed. Justin and I have been on the same team a few times. We raced together at the 2010 Olympic Games in Vancouver as crewmen for Pierre Lueders. Then we raced together on an America's Cup race when he started doing piloting. The switch was then made before the 2014 Olympic Winter Games in Sochi (Lumsden was the brakeman for Chris Spring and Bryan Barnett was the brakeman for Kripps). I have always been impressed with Justin's composure and his ability to stay calm and collected. He really reminds me of quarterbacks. They are never too shaken or never really too emotional. Those are really good qualities to have as a good bobsled pilot. He's a good guy and a good friend."
Q: How gratifying was it to win a silver medal with Kripps at the 2017 World Bobsled Championships?
A: "It was very gratifying. It wasn't really the season we expected or wanted. We dealt with some fundamental issues within the sport that weren't being addressed from a fairness standpoint. They were finally addressed later on in the season that brought balance back to the two-man and four-man races that allowed the actual talent to show. We instantly saw once they made the rule change, our performances turned in the right direction, which led us into worlds, which was a great opportunity to execute there. (According to Vicki Hall of Postmedia, last season, the International Bobsled Skeleton Federation removed a rule that required sandpaper be rubbed on the runners of the sled prior to every race. There was a belief that some nations developed technology that made runners resistant to sandpaper, resulting in an unfair advantage.)
Q: It wasn't the first time you won a silver medal at the World Championships. In 2012, you won a silver medal as the brakeman for Lyndon Rush. Compare Justin and Lyndon as drivers.
A: "Lyndon and Justin are quite similar when it comes to composure. Lyndon came from football, but had a very similar mentality compared to Justin. He didn't get rattled very easily and loved the sport. He had a smile on his face 99% of the time. Lyndon has coached Justin, which I think is a good fit. That was an interesting race (the 2012 two-man World Bobsleigh Championship) because we were leading after day one and then Lyndon had food poisoning. He was sick all night and we went out and managed to hold on to the silver. I remember getting to the bottom of the track and Rush was having to unzip his ski suit to gag. That was the kind of character Lyndon is. It doesn't matter what got in his way. He was able to execute."
Q: You talked about your father Neil at the beginning of the interview. He was an outstanding fullback with the Edmonton Eskimos, and like you had a great university football career. What did you learn from him along the way?
A: "Everything. I learned a lot from making my own mistakes and having my own hurdles to go over. Having him as a mentor throughout my career was a huge advantage. He didn't push me into football. He pushed me out of football and encouraged me to try other sports. I gravitated back to football when I went to high school. He never forced me into a situation. I asked him to help me with my strength and speed programs in the middle of my high school career. I asked him to watch film with me. He did the right thing in letting me choose my own way but he was always there to support me with every decision I made. He was always there to provide some feedback."
Q: What are your goals for the 2017-18 bobsled season?
A: "Win, win, win, win, win. Nothing but win. The goal is to win."