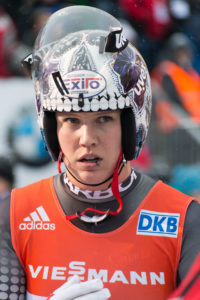 Team Canada won the silver medal in mixed relay luge at the 2018 Olympic Winter Games in Pyeongchang. on Thursday. It was Canada's second medal in luge in three days as Alex Gough of Calgary, Alberta won a bronze medal in women's luge on Tuesday. Remarkably, prior to Tuesday, Canada had zero luge medals in the history of the Olympic Winter Games. Luge became a full medal sport at the 1964 Olympic Winter Games in Innsbruck.
In the team relay, Canada posted a second place time of 2:24.872. Germany won the gold medal with a time of 2:24.517. Austria won bronze with a time of 2:24.988,
The Canadian team of Alex Gough, Sam Edney, Tristan Walker and Justin Snith reached the Olympic podium by 0.219 seconds. The United States had a fourth place time of 2:25.091.
Even though Canada won silver and bronze this week, one could argue that this is quite simply the golden time in Canadian luge. Never before has the Canadian luge scene been so prominent and had so much of an impact on the international stage than they have over the past three days. Gough will go down in history as the best Canadian luger ever, and the performance of the Canadian team on Thursday could be talked about for decades to come.
With 13 medals, Team Canada sits in second place in the medal standings behind Norway at 17 medals and Germany at 15 medals. They have four gold medals, five silver medals and four bronze medals.