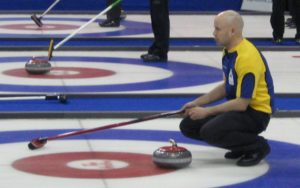 After the second day of the curling competition at the 2018 Olympic Winter Games in Pyeongchang, Team Canada sits on top of the standings in men's curling with a record of three wins and zero losses. On Thursday, the Canadian team skipped by Kevin Koe of Calgary, Alberta defeated Norway 7-4.
The Norwegian team is skipped by Thomas Ulsrud, the silver medalist from the 2010 Olympic Winter Games in Vancouver and the gold medalist at the 2014 World Men's Curling Championships from Beijing. The Norwegian team is simply known as the team with the colourful pants.
In Canada's win over Norway, there were two key moments in the game. In the eighth end, Ulsrud was light in an attempted draw to the eight foot and forced Canada to steal a point. This give Canada the 5-4 lead. Then in the ninth end, Ulsrud flashed his final stone in an attempted double takeout and Canada stole two more points en route to a three point win.
The only other men's curling team undefeated is Sweden at 2-0. Koe plays Swedish skip Niklas Edin (the Swedish flag bearer in the opening ceremonies) in draw six on Friday at 10pm MT.
It has been going great for the Canadian men's curling team. However, the Canadian women, led by skip Rachel Homan of Ottawa, Ontario are struggling. For the first time ever a Canadian team at the Olympic Winter Games is 0-2 in the Olympic curling tournament. On Thursday, Canada lost 8-6 to South Korea and 7-6 to Sweden in an extra end. Japan leads the tournament with a record of three wins and zero losses.